Unlocking the Secrets of Bubbly Mixology
Alright, folks, gather 'round! We're about to let you in on a little secret: champagne isn't just for toasting at swanky events or spraying from the top of a podium. No, no, it's also a delightful base for crafting divine cocktails you can savour in the comfort of your own home.
In this article, we'll reveal 10 bubbly creations, from the classics to the festive, and a few cheeky tips to make your at-home mixology an absolute triumph. Are you ready to impress your mates and tickle your taste buds? Let the cork-popping begin!
Classic Champagne Cocktails
1. Mimosa
Ah, the Mimosa – the ultimate brunch partner in crime. Refreshing, zesty, and a little bit posh. To create this champion of breakfast beverages, simply mix equal parts chilled champagne prosecco and freshly squeezed orange juice. Top it off with a twist of orange zest, and you'll be the monarch of the mid-morning feast.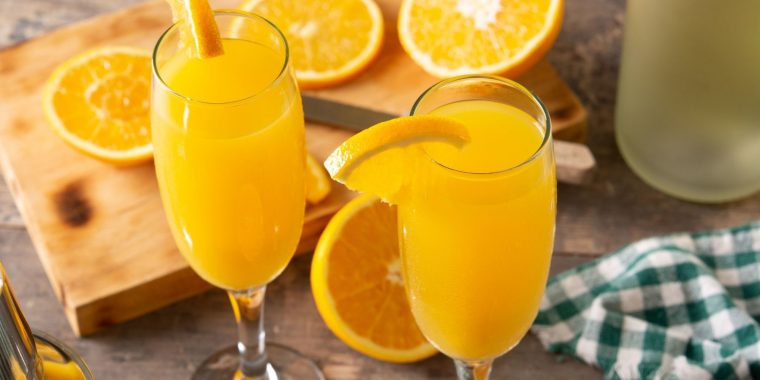 2. Bellini
The Bellini: a gift from Italy to the world of prosecco cocktails. Perfect for a summer get-together or just when you're feeling a bit fancy. Combine 2 ounces of peach purée with 4 ounces of chilled sparkling, give it a gentle stir, and garnish with a peach slice or a sprig of mint. It's amore!
3. Champagne Margarita
Ever thought of inviting champagne to the Margarita party? Trust us, it's worth it! Combine 1 ounce of tequila, 1/2 ounce of orange liqueur, 1/2 ounce of lime juice, and 2 ounces of chilled champagne in a shaker with ice. Shake it like you're dancing at the fiesta, strain into a salt-rimmed glass, and top with a lime wheel garnish. Olé!
4. Kir Royale
The Kir Royale is like that effortlessly chic Parisian friend we all secretly envy. Pour 1/2 ounce of crème de cassis into a champagne flute and top with 4 ounces of chilled champagne. Garnish with a lemon twist or fresh berries, and imagine yourself at a sophisticated Parisian café, people-watching and sipping in style.
5. French 75
The French 75: when gin, lemon juice, and champagne come together, it's a flavour explosion that'll leave you exclaiming, "Oh là là!" Mix 1 ounce of gin, 1/2 ounce of lemon juice, and 1/2 ounce of simple syrup in a shaker with ice. Shake, strain into a champagne flute, and top with 3 ounces of chilled champagne. Add a lemon twist garnish and sip with flair.
Festive Champagne Cocktails

6. Poinsettia
Add some sparkle to your holiday festivities with the merry Poinsettia. In a champagne flute, mix 1 ounce of cranberry juice, 1/2 ounce of orange liqueur, and 3 ounces of chilled sparkling. Garnish with a few fresh cranberries and an orange twist for an extra touch of seasonal cheer.
7. Airmail
Raise a toast to celebrations with the Airmail, a tropical twist on the traditional champagne cocktail. Mix 1 1/2 ounces of gold rum, 3/4 ounce of lime juice, and 1/2 ounce of honey syrup in a shaker with ice. Shake well and strain into a champagne flute, then top up with 2 ounces of chilled champagne. Garnish with a mint leaf and embark on a flavour journey to a tropical paradise!
8. Black Velvet
Indulgent, creamy, and downright luxurious, the Black Velvet is a blend of champagne and stout that's perfect for a swish gathering. Fill half a flute with chilled stout, then gently pour 4 ounces of chilled champagne over the back of a spoon to create a marvellous layered effect. No garnish needed for this stunner – it's already dressed to the nines!
9. Champagne Punch
Throwing a smashing do? The Champagne Punch is fruity, refreshing, and brilliant for sharing with a lively crowd. In a large punch bowl, combine 1 bottle of chilled champagne, 1/2 cup of orange liqueur, 1/2 cup of brandy, 2 cups of cranberry juice, and 2 cups of pineapple juice. Add slices of orange, lemon, and fresh cranberries for a colourful touch. Serve over ice and let the good times roll!
10. Elderflower Champagne Cocktail
Exquisitely delicate and aromatic, the Elderflower Champagne Cocktail is perfect for a garden party or an intimate rendezvous. Pour 1 ounce of elderflower liqueur into a champagne flute and top up with 4 ounces of chilled champagne. Garnish with a sprig of fresh mint or a few frozen berries for that extra touch of elegance.
Top-Secret Tips for Making Flawless Champagne Cocktails
Always use chilled champagne – a crisp and refreshing taste is essential.
Splurge on top-notch ingredients for the ultimate flavour experience. After all, you're worth it!
Be gentle when mixing champagne with other ingredients to maintain its bubbles – treat it like the VIP it is!
Experiment with different champagne or sparkling varieties, such as brut or rosé, to discover new flavour combos and wow your guests.
Invest in proper glassware, like champagne flutes or coupes, to elevate your cocktail experience to new heights of sophistication.
Conclusion
Whether you're hosting a fabulous bash or simply treating yourself to a quiet night in, these timeless champagne cocktails are the perfect way to add a touch of glamour to any occasion. With a mix of classic and festive options, you're sure to find a recipe that tickles your fancy. Just remember to use top-quality ingredients and check out our range of Champagne and Sparkling Wines. Cheers to you!
Champagne Cocktail FAQs
Can I use sparkling wine instead of champagne?

Absolutely, You can substitute sparkling wine for champagne in these cocktails. Just make sure it's chilled and of good quality for the best results.
How do I properly chill champagne?
The ideal way to chill champagne is to place it in the fridge for at least 3 hours before serving. Alternatively, you can submerge the bottle in a bucket of ice and water for about 30 minutes – just like the pros do!
What's the difference between a champagne flute and a champagne coupe?
A champagne flute is a tall, narrow glass with a long stem, while a champagne coupe is a shallow, wide glass with a short stem. Flutes are brilliant for preserving the bubbles of champagne, while coupes are perfect for showcasing your cocktail's aesthetics.
Can I make these champagne cocktails ahead of time?
It's best to make champagne cocktails right before serving to maintain the freshness and bubbles of the champagne. However, you can prepare the non-champagne ingredients in advance, ready to mix when it's time to serve.
---